Sipping into Summer: The Perfect Champagne to Enjoy in the Sun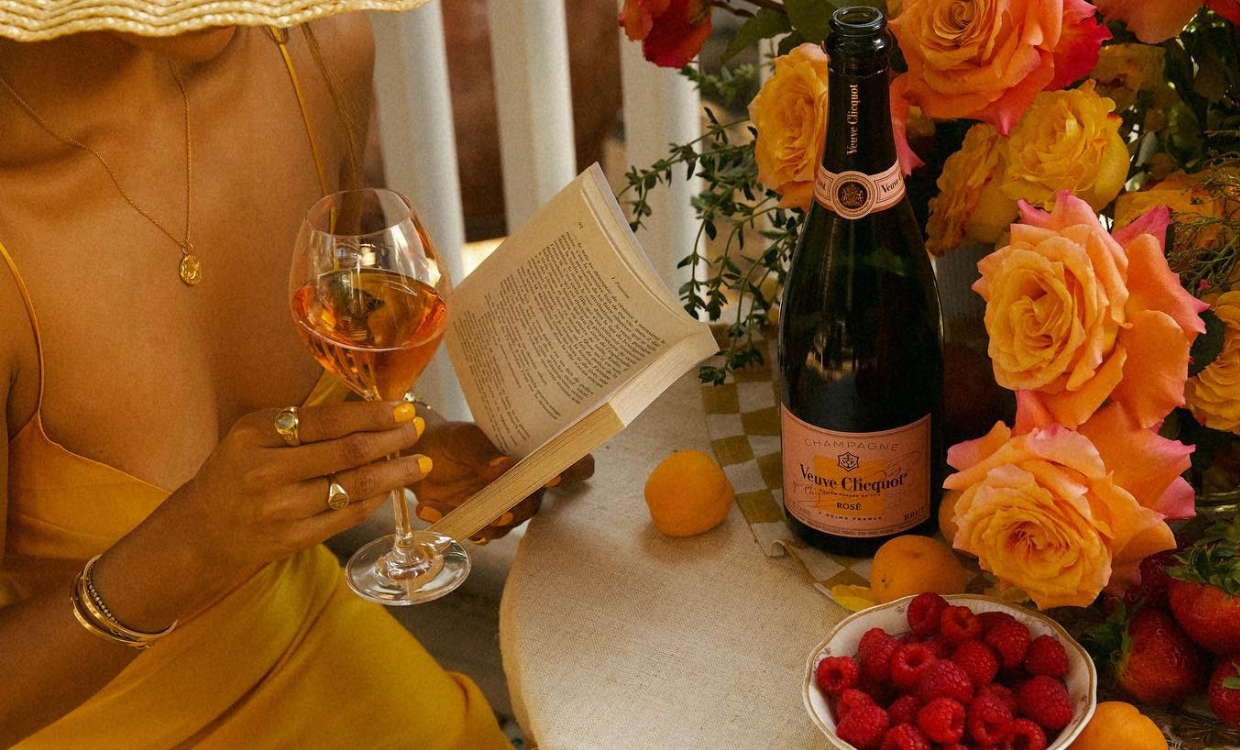 There's nothing like sipping on a chilled glass of champagne on a hot summer day, especially if you're lounging by the pool or on a beach. Summer is the season for light and fruity champagnes, which are easy to drink and perfect for lazy afternoons. So why not grab a bottle, some friends, and soak up the sun while you savour the delicious flavours of summer? Here, are some suggestions for summer-perfect champagnes:
Veuve Clicquot Yellow Label Brut
Sip into summer with a refreshing and flavourful blend of baked apple, biscuit, and brioche notes in every sip. This full-bodied and consistent drink is dominated by black grapes, with a perfect blend of 50% Pinot Noir and 20% Pinot Meunier, complemented by 30% Chardonnay. Enjoy the taste of summer in every glass!
Veuve Clicquot Vintage Reserve Brut
Crafted only in the finest years, this wine boasts a burst of intense aromas that will transport your senses to a tropical paradise. Imagine the sweet scent of candied citrus mingled with the rich essence of roast pear, hazelnut, and almond. To add a hint of sophistication, a portion of the wine is aged in oak, infusing subtle notes of vanilla and toast. Refreshing, satisfying, and utterly indulgent - this is the ultimate summer drink!
Veuve Clicquot La Grande Dame Rose
Indulge in the exquisite taste of our Pinot Noir, perfected with fresh aromas and aged slowly for a long-lasting, powerful flavour. This delightful beverage blends the fruity goodness of red fruits with zesty citrus notes, leaving your palate with a harmonious combination of dried flowers and smoky undertones. Its complexity is truly unmatched, making it the perfect choice for any summer gathering.
Veuve Clicquot Vintage Rose is a champagne that is perfect for summer drinking. This champagne is well known for its delicate floral and perfumed red fruit characteristics, which make it a refreshing and delicious choice for warm weather. It is made from a blend of Pinot Noir, Chardonnay, and Pinot Meunier grapes. The Pinot Noir gives the Champagne its delicate pink colour, while the Chardonnay and Pinot Meunier add complexity and depth to the flavour.
Ruinart Rose Champagne is another excellent option for a refreshing summer drink. With its golden pink colour, this champagne boasts a delightful bouquet of cherry and red-berries on the nose. On the palate, it is well-balanced with vibrant and refreshing fruit character, making it a perfect pairing for light summer fare and outdoor gatherings.
Like Veuve Clicquot Vintage Rose, Ruinart Rose Champagne is crafted using a blend of Pinot Noir, Chardonnay, and Pinot Meunier grapes, which are meticulously selected and blended to achieve the desired flavour and colour. The champagne is then aged in the cellars for several years to develop its signature taste and aroma.
So, whether you prefer a light and fruity rose or a full-bodied brut, there's a wine out there to satisfy your taste buds. Sit back, relax, and enjoy the warm weather with a glass of your favourite wine. Cheers to a refreshing summer filled with good company, delicious food, and great wine!